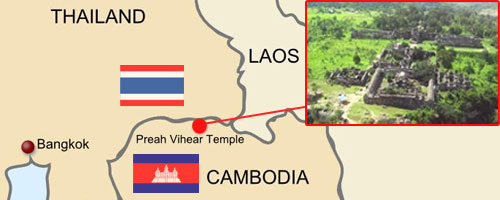 Originally published at Siam Voices / Asian Correspondent on April 11, 2011
The heavy clashes in February at the Preah Vihear Temple have been the peak in the still ongoing Thai-Cambodian border dispute.
I went to Sisaket (Thai side) during the clashes and followed many villagers who have been evacuated. Most villagers moved to the next biggest city Kantharalak. Several villages have been affected by rockets and shells. The military built up road blocks and tried to seal the area.
The refugee camps at Kantharalak were helping with food, medical support and shelter. About 20.000 refugees were in and around Kantharalak for several weeks after the clashes.
The situation at the border calmed down – most villagers moved back to their homes but some roads are still blocked and military is ready to take action at any time.
Here is an updated timeline of tensions on the frontier since July 2008 (most of it put together by the Telegraph):
July 8, 2008
The 11th-century Preah Vihear temple is awarded World Heritage status by the UN cultural body UNESCO, angering Thai nationalists who claim ownership of the site, awarded to Cambodia by the International Court of Justice in 1962.
July 15, 2008
Three Thai protesters are arrested for jumping a barbed-wire fence to reach the temple, prompting a military build-up from both sides.
August 3, 2008
Cambodian and Thai soldiers exchange fire briefly, injuring one Cambodian.
October 6, 2008
Two Thai soldiers are injured in a landmine blast at the border, prompting Thailand to accuse Cambodia of recently planting the device.
October 15, 2008
Three Cambodians and one Thai soldier die in a fresh clash at border.
April 3, 2009
Officials say two Cambodian soldiers and one Thai trooper are killed in heavy gunbattle on the border.
September 19, 2009
Dozens are wounded as Thai nationalist protesters clash with Thai police and villagers near the temple, demanding that Bangkok push Cambodian forces out of the disputed area.
September 28, 2009
Cambodian premier Hun Sen says he has ordered his troops to shoot anyone from neighbouring Thailand who crosses onto land around the temple.
January 24, 2010
Cambodian and Thai troops exchange fire some 10 miles southeast of the temple during a speech there by Cambodian Foreign Minister Hor Namhong, in which he urged troops to be brave defending their territory.
February 9, 2010
Internet giant Google promises to review a map of Preah Vihear after Cambodia complains it shows nearly half of the temple as being in Thailand.
August 8, 2010
Mr Hun writes to the United Nations accusing Thailand of threatening to use military force, a charge denied by Bangkok.
January 31, 2011
Thailand demands that Cambodia remove its flag from Keo Sikha Kiri Svara pagoda, which is built in the disputed border area. Cambodia refuses.
February 1, 2011
A Cambodian court hands two Thais, including a high-profile nationalist activist, a lengthy jail sentence for spying and illegally entering Cambodia. The pair were inspecting disputed border territory when they were arrested.
February 4-7, 2011
Thai and Cambodian troops exchange heavy fire on the border, leaving six dead over a period of four days.
February 9, 2011
Hun Sen officially called the recent clashes a war, stating that "Thailand created this war. [Thai Prime Minister] Abhisit must be responsible for the war" and "Our war with Thailand will be taking long time". He also made it clear that there would be no more talks without a third party
February 15-16, 2011
Several new skirmishes occurred. A few Thai soldiers were injured on the 15th, the shootings afterwards caused no casualties.
April 7, 2011
Thailand admitted using Dual-Purpose Improved Conventional Munition (DPICM) during the clash, which has been identified by the Cluster Munition Coalition(CMC) as cluster munitions. The CMC said this was the first confirmed use of cluster munitions since the Convention on Cluster Munitions became international law.
When I went to Sisaket during the clashes I heard different opinions on the conflict by the citizens and local authorities. While some villagers formed small armed groups to fight back Cambodians – there were actually a lot of people striving for peace talks. Two month later peace talks in Indonesia started and I did an interview with Mr. Thani Thongphakdi, a Government Spokesman, General Director, Ministry of Foreign Affairs, Thailand – some excerpts:
Florian Witulski: "There have been various conflicts between Thailand and Cambodia, the recent border dispute at the Preah Vihear Temple have been very striking since nearly two years. Can you briefly evaluate on main problem in this conflict?"
Thani Thongphakdi: "The Border issue has been outstanding for some time and we would like the existing bilateral mechanisms, namely the joint commission to continue with their work on the demarcation of the border. I think the problem stand for the fact the Cambodians using a different map from the one we have been using. Therefore they have claimed that a certain area along the border is part of their territory. At the same time we believe that their understanding is based upon a unilateral understanding of a map in which the international court of justice did not rule upon.[...]"
Florian Witulski: "There are bilateral peace talks right now in Indonesia. What stand is Thailand taking in these talks and what are the next steps in finding a solution?"
Thani Thongphakdi: "I think the best solution is for both sides to sit down and discuss it through the existing JBC (Joint Boundary Commission) mechanism. The dispute of this nature can only be resolved through negotiation between both sides. We believe that the JBC offers the best avenue for this. We hope that the meeting which is just taking place right now in Bogor, Indonesia will give more impetus in this direction. [...] There are a number of items on the agenda at the moment. I think the most important of which for both sides to agree upon the selection of the company to do the areal mapping or photo map of the boundary area which will help with the demarcation process. Now once we can agree upon this selection of the company we can proceed more swiftly[...]"